About The Job
For a regional city of its size, Bundaberg has long been overlooked for entertainment, cultural and indoor sporting events due to its lack of suitable venues. This situation has now been resolved with the opening of Bundaberg Multiplex Stage 2.

Locally built by commercial builders, Murchie Constructions, Stage 2 comprises of a convention/function room with the ability to be reconfigured into one or two separate areas, a full-size sports court, entertainment or presentational stage and extensive commercial catering facilities. The complex will also become the region's evacuation centre in times of emergency.

Fully retractable seating for adds to the versatility of the centre. Expanded, the retractable seating for 768 allows elevated viewing of the sports court. For stage events, additional floor level seats are installed over removable carpet tiles covering the timber sports floor, greatly adding to the versatility of the centre.
The visual effect of the various angles incorporated into the design ensures the structure does not appear commercial or industrial. Whilst aesthetically pleasing, the design did add to construction complexity. Not only did the size and shape of the concrete tilt panels require careful planning and expert lifting, the design of the works necessitated some structural steel be installed prior to the panel erection.

Internally, the emphasis on angular design is carried through both structurally and decoratively. Bold statement colours adorning the walls are beautifully tempered by woodgrain panelled features. Fabricated and pre-finished off-site, these veneered timber panels clad the sports area ceiling and walls. Thousands of perforations to the high-level panels greatly enhance the acoustic performance of material as well as adding dimensional effect.

Mechanical services include air conditioning to the entire centre and refrigeration for the commercial kitchen and bar areas.
Approximately 1900m² of the total roof area, at 3°, provides an ideal platform for 294 solar panels with all excess energy stored in a 100kva Tesla Powerpack. Fully expandable, the system currently services the centre's electricity needs as well two electric car charging points. This commitment to sustainability is commendable and significantly reduces the operating costs of the centre. In the event of natural disaster or other emergency, the system will provide a renewable source of energy to assist the backup generators.
Murchie Constructions handed over this fully-functional facility in late 2017. Whilst we are very pleased to add this project to our construction portfolio, we also thank the Bundaberg Regional Council for entrusting a local building company. Significantly adding to the Bundaberg economy, the project engaged regional subcontractors and suppliers wherever possible and provided much needed employment opportunities for the local community
Project Team
Architect & Engineer - GHD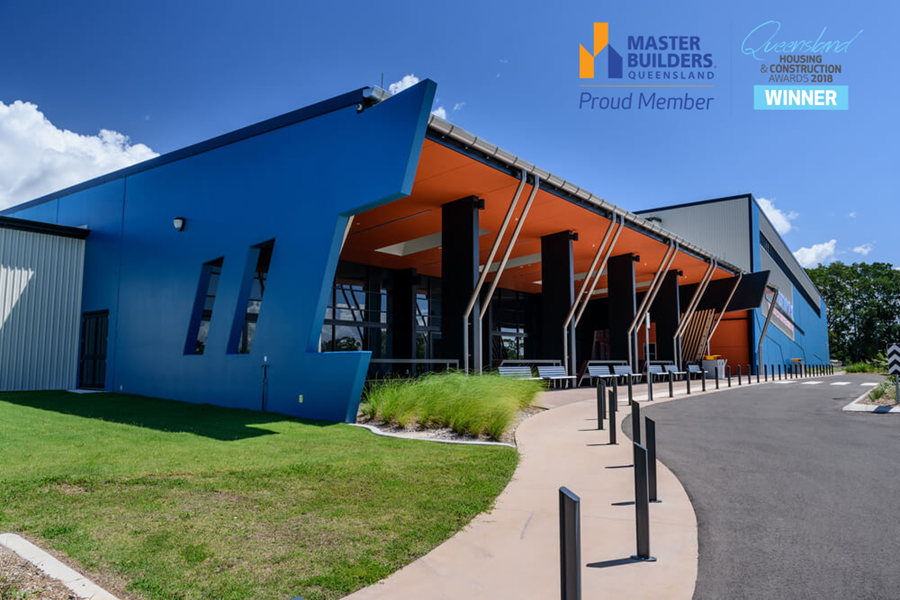 Need advice for your next build?
Get the advice you need to save money and achieve the outcomes you need for your next design or build project.