About The Job
The refurbishment of Bundaberg State High School's Performing Arts complex was awarded to Murchie Constructions as a Design and Construct project. Murchie Constructions were tasked with providing design documentation including Architectural, Structural, Electrical and Mechanical drawings addressing Building Codes and Standards and Department of Education requirements as outlined in the design brief. The design phase of the project was done in conjunction with GHD was completed over an 8-week period.
Construction works involved altering and upgrading the existing building to meet Department of Education standards. The upgrade works involved providing additional music practice rooms, reconfiguring existing room spaces to better suit staff and students with an emphasis on improving the acoustics of the building for the purposes of music and drama being a key design element.
The design incorporated two music rooms providing a learning area for class groups up to 28 students each and three practice rooms for individual and small group instrumental music practice. All practice rooms included double glazed viewing panels ensuring students safety by being easily supervised by teaching staff in adjoining Rooms. Acoustic treatments provided sound proofing required to meet Department of Education requirements. Additional windows were cut into the blockwork in order to provide natural lighting and ventilation, and electrically operated louvres and blinds were installed to high level apertures.
A dedicated Dance Studio for teaching and practice was incorporated into the design complete with pulastic dance floor and full height mirrors. A glazed wall separates the studio from the entrance foyer allowing for easy viewing. An existing Café for food and beverage service was included in this space offering the flexibility of utilising the area for functions. The refurbishment included aluminium bi-fold servery windows added to the Café - opening into the Dance Studio for the purpose of entertaining.
Two Drama Rooms, separated by an operable wall were created for the purpose of teaching Drama, rehearsing music and drama and hosting small scale functions. Acoustic treatments were applied to walls and perforated corrugated steel acoustic panels were used on the ceilings. New dimmable LED Lighting suitable for theatrical areas was installed and Audio-Visual projectors were upgraded. A designated Sound Effects room, Backstage and Dressing Room and multiple storage areas adds to the functionality of this impressively versatile space.
Other areas incorporated into the design include a Lunch Room, Staff Room, Office and Meeting Room, Instrument Storage area and Amenities. All works were strategically staged to ensure the centre remained operational during construction works. Site management, traffic management and safety were paramount in ensuring the safety of students, staff and workers. Due to the existing building not being initially established as part of the school's facilities, connectivity upgrades were required encompassing Information Technology, Communications, Telephone System, Security and Bell System. All works were completed to a high standard and to the immense satisfaction of staff and students.
Project Team
Designer: GHD Woodhead
Electrical, Hydraulic and Mechanical Engineer: GHD
Stuctural Engineer: GHD Woodhead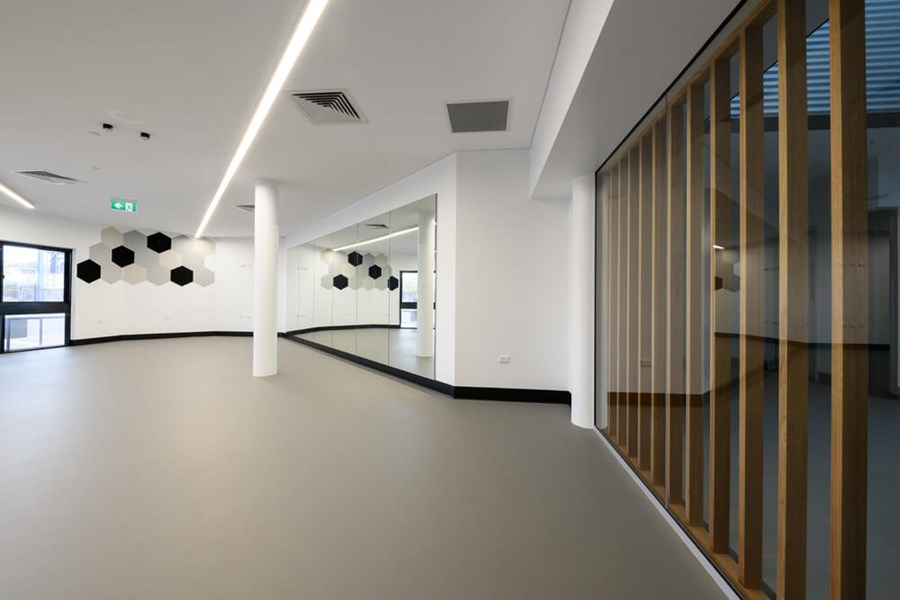 Need advice for your next build?
Get the advice you need to save money and achieve the outcomes you need for your next design or build project.