About The Job
The partners of Central Medical, Bundaberg were looking for a new premises for their busy medical practice. Designed by Tomas O'Malley Architect, their new surgery is not only larger, it provides easy off-street parking for their patrons and the possibility for future expansion and development as the practice grows.
On entering Central Medical's new surgery, you encounter a large Reception Area with 2 large waiting rooms at the front of the building. Surrounding the Reception Area are 10 Consulting Suites and 2 large offices. Further towards the rear of the building is a Nurse Waiting Area, Nurse Station and Utility Room, Dressing Room, Vaccination Room, 3 Minor Op Rooms and Nurse Treatment room. A large Staff Room is situated at the rear of the building with a separate shed for refuse and storage. Adjacent the Entry is a separate tenancy – perfect for a Pathology fitout with a waiting area and 2 sample rooms.
Constructed of brick, fibre cement and metal wall sheeting, the north-facing building boasts an elevated skillion roof at the entry. Decorative laser cut screens to the western side of the building provide privacy between the carpark and the consulting suites inside. Extensive landscaping adds to the building's overall appeal. Inside, the reception counter, nurses station and staff room joinery is a mix of timbergrain, charcoal and white laminates, with the treatment areas using soft blue and white laminates blending beautifully with the vinyl floors.
It was a pleasure to deliver this project for the Partners of Central Medical in a tight time frame and in conjunction with Tomas O'Malley Architect.
Project Team
Architect: Tomas O'Malley | Architect
Hydraulic Consultant: Plumbing Design and Drafting - Hydraulic & Fire Protection Consultants
Mechanical Consultant: MVO Services
Structural Engineer: Empire Engineering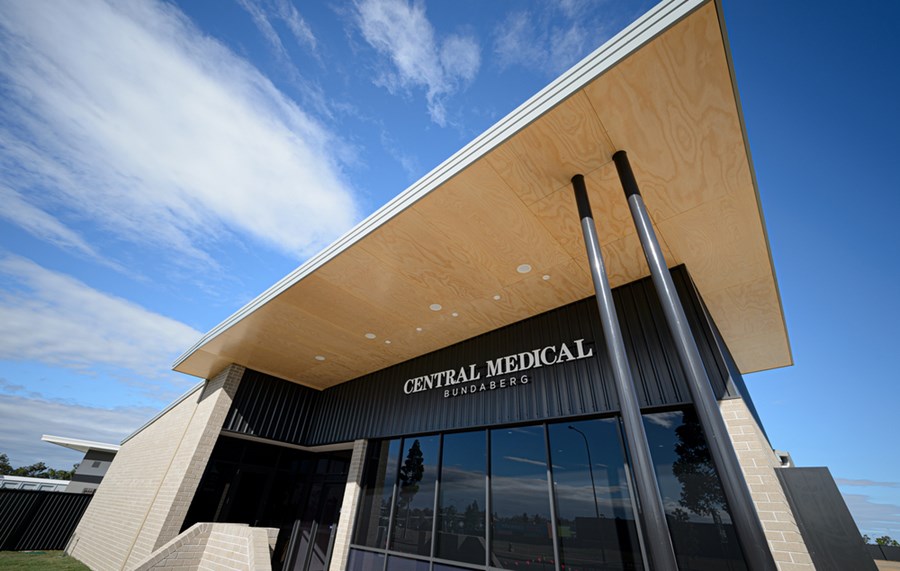 Need advice for your next build?
Get the advice you need to save money and achieve the outcomes you need for your next design or build project.