About The Job
The tenant of this purpose built warehouse and office complex is into advertising, in a big way, as in billboard-big.  JAM billboards boldly present their clients' advertisements on our highways and regional roads, and their recently completed Bundaberg base presents itself equally as bold.
Located in a new commercial development adjacent the Bundaberg Airport, the building is similar, but different, to its newly constructed neighbours.  Without having older surrounding buildings to offer balance, the architect has met the challenge of designing a warehouse with an interesting appearance and not just another bland tilt panel commercial structure.  The front elevation features a tilt panel facade framing a glazed curtain wall.  Dark tinted glass cools the interior and adds visual interest to the expansive building frontage.  Constructed on a corner block, the eastern elevation is also boasts eye-catching colour and proportionally appropriate glazing.
As a long term investment, the building is somewhat future proof.  High bay doors access the cavernous interior and heavy vehicle access is assisted by the extensive concrete hardstands. 
The building entrance features a two level void, immediately adding a sense of spaciousness to the Reception area and the open offices concealed behind.  Also on the lower level, the staff amenities zone bridges the warehouse and office areas and has been finished with durable and practical vinyl flooring.
Lower level offices benefit from the floor to ceiling glass of the glazed curtain wall, as does the upper level meeting area.  Accessed by timber stairs, the first floor contains an office and comms room/data cabinet as well as the expansive meeting room. 
Externally, the clean, minimalistic lines are softened by quality landscaping elements.  Complimenting the 'green' theme of the commercial estate, semi-advanced plantings enhance the appearance of the site as well as disguising the bio-retention pit located at the front of the building.
As builders working throughout regional Queensland, construction projects in our own area is a welcome change, especially buildings with long lasting prominence such as the JAM Warehouse Bundaberg.
Project Team
Architect: WDC Design
Civil Engineer: BG Group Engineers
Electrical Consultant: Building Services Design Pty Ltd
Hydraulic Consultant: Chilton Woodward & Associates
Structural Engineers: BG Group Engineers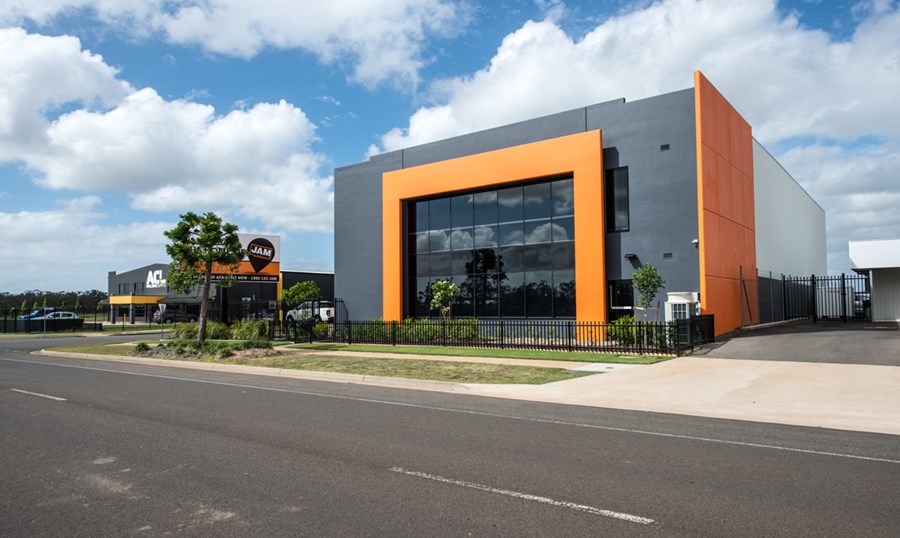 Need advice for your next build?
Get the advice you need to save money and achieve the outcomes you need for your next design or build project.